Martingale Dog Collars At Royal Image Collars
Choose from custom-order or ready-made designer collars
---
At Royal Image Collars, we offer a wide choice of designs so that you can give your dog the look that most pleases you. We have some very attractive premade designs in a variety of colors and themes, or you can custom design your own.

The following table includes our collar pricing chart. Please scroll further down the page to learn more about our standard designer collars and our custom order collars:
Collar Pricing Chart

| Collar size | Collar price |
| --- | --- |
| Small (5"–10.75") | $25.00 |
| Medium (11"–15.75") | $30.00 |
| Large (16"–20.75") | $35.00 |
| X-Large (21"–24.75") | $40.00 |
| XX-Large (25"-28.75") | $45.00 |
| XXX-Large (29"-33") | $50.00 |
The pricing of our collars is based on the measurement of the actual circumference of your dog's neck at the smallest point of the throat, just behind the ears and the jawbone. This will be measurement #2 from the measurement guide on the "order a collar" page. There are measuring instructions and a helpful diagram on this page, so use the menu at the left or click here to learn more: order a collar page.

Scroll down for more information on our custom order collars or our standard designer collars!
Build Your Own Custom Collar!
For that "just right" custom look, we offer you the ability to custom order every aspect of your dog's collar, from bead colors to concho colors and styles to collar color and more!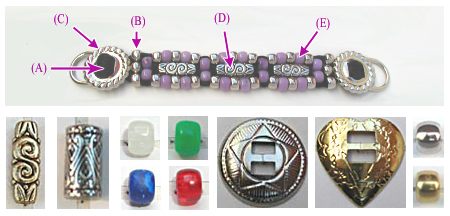 When ordering a custom Martingale dog collar, you'll choose from 5 available options listed on our custom collar options. These 5 options correspond to the labels in the picture above.

Ready to order? Just click our order a collar page in the menu above.
Ready-Made Feature Collars
Choose from 15 styles of premade "Feature Collars"
One of these styles you see below is sure to be a great fit for your dog. You can get the nylon cord/webbing in either black or white on any of these styles. You may also choose from gold, dark silver or bright silver metal tone beads on these collars. To read further product information or to order one of these collars, click over to our order a collar in the menu above.


Blue Fire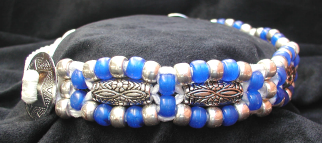 Celebration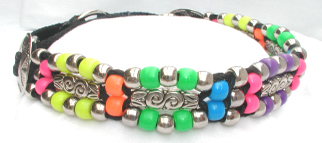 Garnet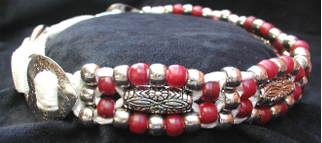 Heir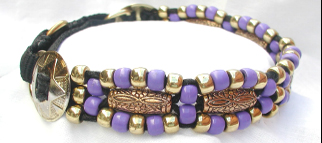 Lapis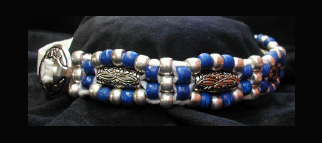 Mardi-Gras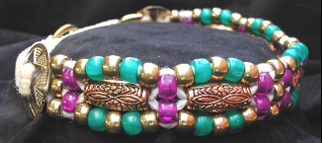 Navajo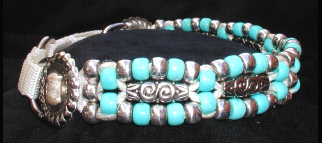 Night & Day
Patriot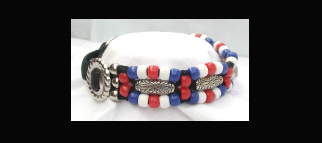 Pharaoh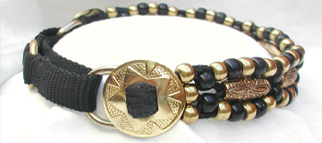 Purity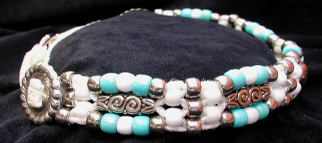 Rose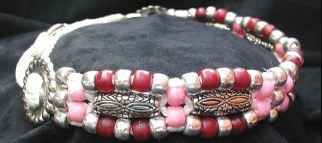 Royal Turquoise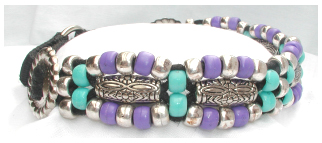 Ruby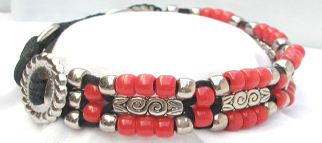 Sapphire