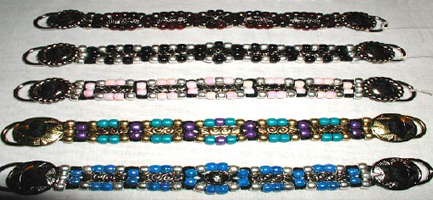 About Royal Image Collars
Founded in 1997 by Starlyn Smelker, in Michigan, Royal Image Collars is backed with 18 years of industry experience. While involved in Greyhound Rescue and Adoption since 1995, we found that the Martingale style collars used on Greyhounds were essential for their protection and the collar of choice. When fitted properly, these collars keep the Greyhound's narrow skulls from slipping out of them in panic. Rescued Racing Greyhounds of today, should they get loose, are not familiar with the dangers of the world around them because they have been raised in seclusion. Because of their fright in new and strange surroundings they avoid coming easily to strangers to be caught. Due to this innocence we must protect them from getting loose.

Greyhounds of ancient times were owned only by people of nobility. The birth of a Greyhound was as important as the birth of an heir! They were given as prized gifts between houses of royalty. Today the demand for attractive, regal looking collars, possibly incorporating beads, strong and functional enough to stand up to every day use is an idea that has spanned the ages and has again come into its own. Such a collar must be a protective restraint but non–punishing. The Martingale style collar provides the security and protection not only for Greyhounds but for all breeds of dogs.

Royal Image beaded martingale style collars have become so popular that we now design for many breeds of dogs, from small to large, and for miniature ponies as well. We create elegant beaded dog collars that are sturdy enough to be used for everyday. Our collars are especially unique because You become "The Designer" by choosing your preference of colors and materials used in the handcrafting of a collar to fit the perfect measurements of your dog.
We feel that we have developed an elegant collar that will allow everyone's babies to glow with the "Regal Presence" that they deserve. We will be glad to help you make this a most personalized and creative experience.
Through our commitment, experience, and expertise, Royal Image Collars has established a business relationship with our customers that will last a lifetime!

Watch for new items and accessories that we will be adding in the future to be mixed and matched with Royal Image Collars.