Martingale Dog Collars
Handmade Beaded Dog Collars For All Breeds
Please look over all of the information on this page and explore the many menu options available. When you are ready to place an order, click the "order a collar" link in the menu.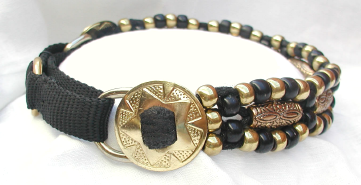 Royal Image Collars: unique, functional, strong and stunning on all breeds of dogs. We welcome you to our online design studio. We believe you will find this a fun and refreshing experience that will allow you to purchase a ready-made designer collar or to become "the custom designer" of a unique handcrafted elegant creation that will give your precious canine companions the "Regal Aire" they deserve. Your creations will be admired by many long into the future, so be sure to get your Martingale dog collar from the best: Royal Image Dog Collars!
The Best Martingale Dog Collars For Sighthounds!
When you need a Martingale dog collar for your sighthound, your dog deserves the best from Royal Image Collars. Royal Image's handmade, beaded Martingale collars are handcrafted with 250 pound (per strand, 6 strands per collar) tested nylon cord, nylon webbing, welded metal "D" and "O" rings, and acrylic & metallic beads. They are sturdy enough to hold even the largest of dogs.
Martingale Dog Collars Have Become The Collar of Choice For Many Dog Breeds

Whether you have a toy breed dog or a large dog, we think you'll agree that our handmade, beaded Martingale collars are not only functional, but beautiful and unique. And when it comes to purchasing a collar for your sighthound, a Royal Image Collar's collar not only makes your dog beautiful, but it also keeps your animal safer than traditional collars.

Watch for new items and accessories that we will be adding in the future to be mixed and matched with your Royal Image Collars.
Please Review Some Important Information Before Ordering
We want to make sure that your purchase is correct and that you enjoy years of safety and beauty with our collars.

To make sure you are happy with your purchase, we ask that you refer to our collar order page, found in the menu above left. This page contains instructions and information that you'll need in order to place an order with Royal Image Collars.